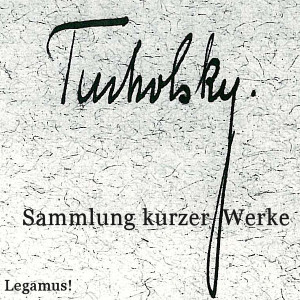 (first published 1923 – 1935)
by Kurt Tucholsky (1890-1935)
Language: Deutsch
The text of this recording is in the Public Domain in Europe and all countries where copyright expires 70 years after the author's death. Please verify the copyright status of this text in your own country before downloading, otherwise you may be violating copyright laws.
The recording is released under the Creative Commons license CC0.
Kurt Tucholsky war ein deutscher Journalist und Schriftsteller. Er schrieb auch unter den Pseudonymen Kaspar Hauser, Peter Panter, Theobald Tiger und Ignaz Wrobel. Tucholsky zählte zu den bedeutendsten Publizisten der Weimarer Republik. Als politisch engagierter Journalist und zeitweiliger Mitherausgeber der Wochenzeitschrift Die Weltbühne erwies er sich als Gesellschaftskritiker in der Tradition Heinrich Heines. Zugleich war er Satiriker, Kabarettautor, Liedtexter, Romanautor, Lyriker und Kritiker. Er verstand sich selbst als linker Demokrat, Sozialist, Pazifist und Antimilitarist und warnte vor rechten Tendenzen – vor allem in Politik, Militär und Justiz – und vor der Bedrohung durch den Nationalsozialismus.
(Zusammenfassung von Wikipedia)
Total running time: 0:44:28
Augen in der Großstadt – 0:01:55 – gelesen von Hokuspokus
Blick in ferne Zukunft – 0:02:36 – gelesen von Nadine Eckert-Boulet
Worauf man in Europa stolz ist – 0:01:49 – gelesen von Hokuspokus
Wo kommen die Löcher im Käse her? – 0:11:57 – gelesen von Karlsson
Zehn Gebote für den Geschäftsmann, der einen Künstler engagiert – 0:03:34 – gelesen von PatrickLondon
Zur soziologischen Psychologie der Löcher – 0:05:01 – gelesen von muede
Man sollte mal … – 0:06:27 – gelesen von muede
Kurzer Abriß der Nationalökonomie – 0:07:38 – gelesen von Hokuspokus
Die armen Luder – 0:01:30 – gelesen von Hokuspokus
Eine Frage – 0:01:57 – gelesen von Nadine Eckert-Boulet
In addition to the reader, this audio book was produced by:
Book-Coordinator, Meta-Coordinator/Cataloging: Hokuspokus
Dedicated Proof-Listener:  Nadine Eckert-Boulet, muede, Hokuspokus
Catalogued 12. December 2011