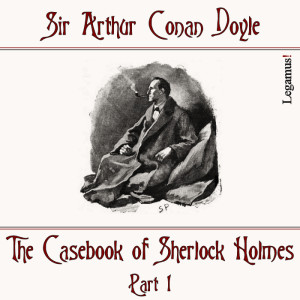 (first published 1927)
Sir Arthur Conan Doyle (1859-1930)
Language: English
And so, reader, farewell to Sherlock Holmes! These are positively the last stories. There is some disagreement as to their quality, and some claim that Conan Doyle was writing more experimentally, rather than to the conventional Sherlock Holmes formula. Not all the stories are narrated by the faithful Watson, and the stories are regarded as the darkest of the Holmes canon, with some unusual villains.
Part 2 of this audio book will available as soon as it is recorded.
Please note: Section 5, The Adventure of the Three Gables, includes language which, though normal for the time it was written, is now regarded as highly unacceptable racial slurs. Anyone who finds this too offensive may wish to omit this story. Indeed, any listener who would understandably prefer to avoid my poor attempt at American accents, may prefer not to listen to a number of these stories. Conan Doyle seemed to like American villains. … (summary by Ruth Golding)
The original text of this recording is in the Public Domain in countries where copyright expires 70 years or less after the author's death, but is still protected by copyright in the USA and some other countries. Please check the copyright law of your country before downloading.
The recording is released under the Creative Commons license CC0.

Total running time: 7:15:22 – Read in English by Ruth Golding

00 – Preface – 04:48 min [download all sections]
01 – The Adventure of the Illustrious Client Part 1 – 42:52 min
02 – The Adventure of the Illustrious Client Part 2 – 30:22 min
03 – The Adventure of the Blanched Soldier – 53:07 min
04 – The Adventure of the Mazarin Stone – 43:46 min
05 – The Adventure of the Three Gables – 45:45 min
06 – The Adventure of the Sussex Vampire – 43:45 min
07 – The Adventure of the Three Garridebs – 46:01 min
08 – The Problem of Thor Bridge Part 1 – 34:55 min
09 – The Problem of Thor Bridge Part 2 – 35:55 min
10 – The Adventure of the Creeping Man – 54:06 min
In addition to the reader, this audio book was produced by:
Dedicated Proof-Listener, Meta-Coordinator/Cataloging: Hokuspokus
Catalogued 05. July 2015