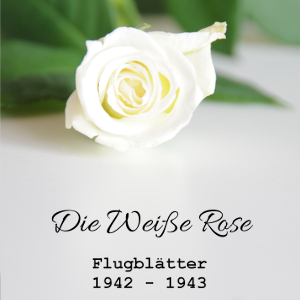 (first published 1942/43)
Language: German/Deutsch
Die sechs Flugblätter der Weißen Rose sind wohl die eindringlichsten Dokumente des Widerstandes gegen die Naziherrschaft in Deutschland. Geschrieben und verbreitet 1942 und 1943 von einer Gruppe von Angehörigen der Universität München thematisieren sie die Verbrechen des Regimes und rufen zum Widerstand auf.
Die sechs Mitglieder der Weißen Rose – die Studenten Hans und Sophie Scholl, Christoph Probst, Willi Graf, Alexander Schmorell und der Uni Professor Kurt Huber – wurden 1943 hingerichtet. (Zusammenfassung von Availle)
The original text of this recording is in the Public Domain in countries where copyright expires 70 years or less after the author's death, but is still protected by copyright in the USA and some other countries. Please check the copyright law of your country before downloading.
The recording is released under the Creative Commons license CC0.

Total running time: 0:44:25 – Read in German by Availle.

1. Flugblatt – 8:05 min [download all sections]
2. Flugblatt – 9:01 min
3. Flugblatt – 9:18 min
4. Flugblatt – 8:03 min
5. Flugblatt – 4:21 min
6. Flugblatt – 5:37 min
In addition to the reader, this audio book was produced by:
Dedicated Proof-Listener: Ramona Deininger-Schnabel, Meta-Coordinator/Cataloging: Hokuspokus
Catalogued 19. June 2015