(first published 1927)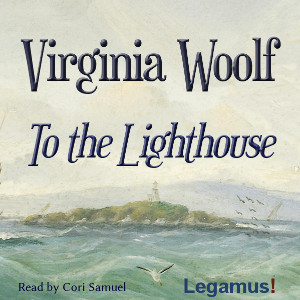 Virginia Woolf (1882 – 1941)
Language: English
The Ramsey family, with house guests, visit the Isle of Skye at least twice. The plot is not at all the point though, as this is a book about how people think and feel and relate. There's insight into the world of childhood thought and emotion, and a variety of views of adult cares and perceptions.
I hope this doesn't make it sound 'difficult', it doesn't need to be – just let the sentences flow and make your own sense of the words. It's perhaps as close as a novel can come to the highly individual experience of looking at a painting. … (summary by Cori Samuel)
The original text of this recording is in the Public Domain in countries where copyright expires 70 years or less after the author's death, but is still protected by copyright in the USA and some other countries. Please check the copyright law of your country before downloading.
The recording is released under the Creative Commons license CC0.

Total running time: 7:49:32 – Read in English by Cori Samuel

01 – 01 – The Window, Ch 1-3 – 31:57 min [download all sections]
02 – 02 – The Window, Ch 4-5 – 29:58 min
03 – 03 – The Window, Ch 6-8 – 36:06 min
04 – 04 – The Window, Ch 9-10 – 37:20 min
05 – 05 – The Window, Ch 11-13 – 26:25 min
06 – 06 – The Window, Ch 14-16 – 19:41 min
07 – 07 – The Window, Ch 17 part 1 – 33:22 min
08 – 08 – The Window, Ch 17 part 2 – 34:18 min
09 – 09 – The Window, Ch 18-19 – 27:22 min
10 – 10 – Time Passes, Ch 1-6 – 20:56 min
11 – 11 – Time Passes, Ch 7-10 – 19:28 min
12 – 12 – The Lighthouse, Ch 1-3 – 27:57 min
13 – 13 – The Lighthouse, Ch 4-5 – 33:02 min
14 – 14 – The Lighthouse, Ch 6-7 – 24:35 min
15 – 15 – The Lighthouse, Ch 8-11 – 25:07 min
16 – 16 – The Lighthouse, Ch 12-14 – 41:58 min
In addition to the reader, this audio book was produced by:
Dedicated Proof-Listener: barbara2
Meta-Coordinator/Cataloging: Hokuspokus and Viktor
Catalogued 19. October 2017