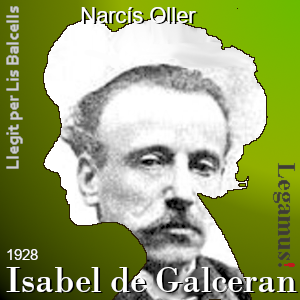 (first published 1875)
Narcís Oller (1846 – 1930)
Language: Catalan
This is a realist novellette featuring how Isabel, wife of Don Pau Armengol, falls victim to a slander promoted by political interests in a small Catalan town as seen from the perspective of a young lawyer from Barcelona.
Isabel és la muller de Don Pau Armengol, hereu d'una vella família del poble que en versions posteriors l'autor anomenarà Vilaniu (pseudònim de Reus). Isabel esdevé víctima d'una calúmnia promoguda per interessos polítics. Aquesta novel·leta presenta el contrast entre el fosc immobilisme i la mesquinesa de la societat de la vila en contrast amb l'empenta política i científica de la ciutat de Barcelona, lluminosa i avançada.
The original text of this recording is in the Public Domain in countries where copyright expires 70 years or less after the author's death, but is still protected by copyright in the USA and some other countries. Please check the copyright law of your country before downloading.
The recording is released under the Creative Commons license CC0.

Total running time: 48:33 – Read in Catalan by Lis Balcells
1 – Chapter 1 – 04:30 min [download all sections]
2 – Chapter 2 – 13:41 min
3 – Chapter 3 – 13:47 min
4 – Chapter 4 – 04:49 min
5 – Chapter 5 – 07:54 min
6 – Chapter 6 – 03:48 min
In addition to the reader, this audio book was produced by:
Dedicated Proof-Listener: Rut Vidal
Meta-Coordinator/Cataloging: Viktor
Catalogued 29 May 2022