(first published 1928)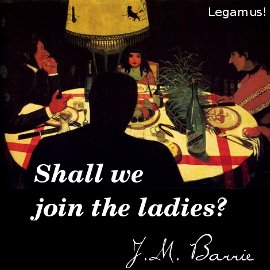 by J.M. Barrie (1860-1937)
Language: English
For the past week the hospitable Sam Smith has been entertaining a country house party, and we choose to raise the curtain on them towards the end of dinner.
Legamus presents: 'Shall We Join the Ladies?' a truly unique mystery play in one act, set around a mysterious dinner party.
(Summary by Charlotte Duckett)
The text of this recording is in the Public Domain in Europe and all countries where copyright expires 70 years after the author's death. Please verify the copyright status of this text in your own country before downloading, otherwise you may be violating copyright laws.
The recording is released under the Creative Commons license CC0.
Total running time: 0:35:26
Narrator: Anna Simon
Lady Jane: Carol Box
Sir Joseph: Andy Minter
Lady Wrathie: ashleighjane
Captain Jennings: Algy Pug
Miss Isit: Lucy Perry
Host: Phil Benson
Mrs. Preen: Julia Niedermaier
Mr. Preen: Viktor Horvath
Mrs. Bland: Ruth Golding
Maid: Rapunzelina
Mr. Gourlay: Piotr Nater
Miss Vaile: Diána Majlinger
Mr. Vaile: Alan Weyman
Mrs. Castro: Charlotte Duckett
In addition to the reader, this audio book was produced by:
Book Coordinator: Charlotte Duckett
Dedicated Proof-Listener: Rapunzelina
Editor: Piotr Nater
Cover: Rapunzelina, based on a painting by Felix Vallotton.
Catalogued 14. February 2015