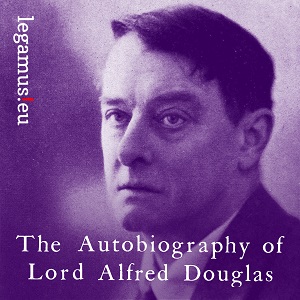 (first published 1929)
Lord Alfred Douglas (1870 – 1945)
Language: English
Lord Alfred "Bosie" Douglas wrote his autobiography in his late fifties, some 29 years after the death of Oscar Wilde. Since the publication of his first memoir, "Oscar Wilde and Myself" (1914), Douglas's anger at his former lover had cooled somewhat, but he still took the opportunity to strike back at his many perceived enemies. (summary by Rob Marland)
The original text of this recording is in the Public Domain in countries where copyright expires 70 years or less after the author's death, but is still protected by copyright in the USA and some other countries. Please check the copyright law of your country before downloading.
The recording is released under the Creative Commons license CC0.

Total running time: 11:21:53 – Read in English by Rob Marland.

01 – Chapter I – 13:45 min [download all sections]
02 – Chapter II – 14:27 min
03 – Chapter III – 15:41 min
04 – Chapter IV – 15:13 min
05 – Chapter V – 09:28 min
06 – Chapter VI – 09:35 min
07 – Chapter VII – 26:14 min
08 – Chapter VIII – 12:13 min
09 – Chapter IX – 10:53 min
10 – Chapter X – 13:33 min
11 – Chapter XI – 21:55 min
12 – Chapter XII – 13:18 min
13 – Chapter XIII – 09:56 min
14 – Chapter XIV – 08:59 min
15 – Chapter XV – 18:03 min
16 – Chapter XVI – 13:43 min
17 – Chapter XVII – 12:06 min
18 – Chapter XVIII – 13:52 min
19 – Chapter XIX – 10:11 min
20 – Chapter XX – 11:09 min
21 – Chapter XXI – 12:02 min
22 – Chapter XXII – 20:52 min
23 – Chapter XXIII – 14:08 min
24 – Chapter XXIV – 17:40 min
25 – Chapter XXV – 09:40 min
26 – Chapter XXVI – 14:50 min
27 – Chapter XXVII – 16:19 min
28 – Chapter XXVIII – 16:30 min
29 – Chapter XXIX – 19:59 min
30 – Chapter XXX – 19:16 min
31 – Chapter XXXI – 15:33 min
32 – Chapter XXXII – 16:03 min
33 – Chapter XXXIII – 15:26 min
34 – Chapter XXXIV – 11:47 min
35 – Chapter XXXV – 09:05 min
36 – Chapter XXXVI – 16:53 min
37 – Chapter XXXVII – 12:02 min
38 – Chapter XXXVIII – 15:16 min
39 – Chapter XXXIX – 12:11 min
40 – Chapter XL – 13:00 min
41 – Chapter XLI – 18:55 min
42 – Chapter XLII – 19:14 min
43 – Chapter XLIII – 11:33 min
44 – Chapter XLIV – 17:00 min
45 – Chapter XLV – 10:04 min
46 – Chapter XLVI – 16:58 min
47 – Appendix – 15:23 min
In addition to the reader, this audio book was produced by:
Dedicated Proof-Listener: Newgatenovelist,
Meta-Coordinator/Cataloging: Viktor
Catalogued 21. September 2021